Broadbandcareers is an independent privately owned "SOCIAL" training company. And is recognised and highly regarded by business as a provider of meaningful accredited training.

Broadbandcareers is operated by its principle trainer Kevin Ward.
Kevin has over 30 years training experience with qualifications in training and continuing education awarded by the University of Southampton and NUI Maynooth.
The trainers have many other qualifications, as diverse as being a military qualified Communicators, Qualified city and guilds Fibre optics, Satellite, Aerial. Blown fibre Design and Installation trainers. Including holding University qualifications in I.T. Management and supervision. The qualifications are too great to list here
The training Quality Management System of Broadbandcareers through Kevin has been approved by QQI (formerly fetac). Our registered provider Centre Number is 38474k

We are registered On the UK National Register of trainers provider number is UKPRN:10025297. Some trainers having membership of the Society of Cable Telecommunications Engineers.

Kevin is a QQI (formerly fetac) approved training provider. In December 2009, Kevin was presented with a parchment which confirmed that his training quality assurance procedures, had been approved by QQI (formerly fetac). Kevin received the parchment from Sean Haughey, TD Minister for Lifelong Learning.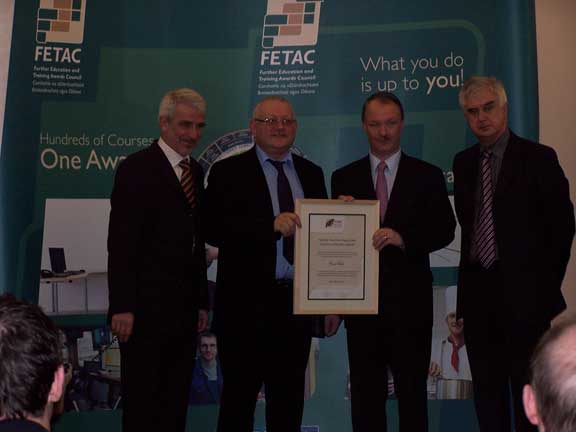 What brought us to where we are now?


The trainers at Broadbandcareers Have many year's of experience working within the communications, installations and Security industries. And at one time or another have provided service or worked for most of the major communications companies who are providing services in the Ireland and the UK. Such as Virgin Media, NTL, sky, BT, Eircom, UPC

The Broadbandcareers name was initially used when five training consultants at NTL Developed a training programme for cable technicians way back in 2000. when the development was completed Kevin adopted the name when he left NTL to become an independent training provider.

The trainers have many year's experience of course material development and project management. But most important of all, have first hand experiences of the skills needed particularly within the Cable Communication, Satellite & Aerial, Security and Telecommunications industries.

The desperate need for Contextual training brought us to where we are today. Before becoming training providers. The trainers in their existing jobs. Had to stand by and watch as existing training providers churned out generic training. That was (and in some cases still is) heavy in outdated theory, not relevant to how cable, aerial, communication and satellite installation companies deploy and work TODAY. You will Never! find us working out of hotel rooms around Ireland while claiming to provide practical training. Sadly there are others that still do.

When it came to the processes and systems that companies use in these industries, these where seldom if ever integrated into the training. Resulting in too many trainees being non the wiser as to how to do the job in the context of where they were expected to work. But we have aimed to change all that.

Our Values and what we are about
We realised that with our knowledge and experience we could make a difference, and provide the contextual training that we knew from working in these industries was desperately needed. In practice this means we provide relevant socially focused training programmes which meet on-going, real world needs for business by:-
Building our training programmes on an analysis of the knowledge and skills required for real world job roles within the cable, Aerial, Satellite, Broadband and Fibre Installation and Service businesses. Meaningless theory is totally discarded.
Develop well structured, clear, workplace skills based training programmes, to meet industries current and anticipated future needs
Support relevant industry recognised qualifications that meet International standards
Use modern, professional training methods and techniques.
Provide support so organisations put the training into practice
Work with our clients to provide customised or new training solutions for those customers working at the limits of, or on newly awarded projects.
We employ full time trainers and develop our own course materials. We are not training brokers.
Don't get me wrong we are a business and we have to generate an income to pay the bills too. But by providing quality training, that ensures a trainee can do the job at the end of the programme. We ensure the future viability of our business. Because companies and individuals continually return to use our services. They see our focus on results based training, not the quantity of trainees through the door.

Key Facts

Our trainers
Wrote the installation Processes, procedures and Mandatory installation specifications for cablelink Ireland now used by UPC, NTL and Virgin Media
Developed and delivered the FAS (Ireland's training and education authority) Telecommunications Technical Operator traineeship QQI (formerly fetac) level 6 qualification, for cable, mmds installation and service technicians Ireland.
Provides subject matter expertise and support to Skillnets, FAS, and other agencies when required
Provided consultancy and training for UPC Ireland's contractors working on the cable network upgrade project throughout Ireland.
Developed and delivered Network Activation Technician, and leakage detection and management programmes.
In conjunction with Emtelle, CBS, provide training for blown fibre Solutions from the network to fibre to the home.
Who are you
Our customers range from international organisations dealing with upgrading and managing complex cable communications networks. Skillnets and EU agencies aiding companies upskill their workforces. Companies engineering new projects, The defence forces of Poland, Ireland and the UK. Through to individuals looking to change their career or update and extend their skills to remain in employment.

Whichever you are, you are all important to us. In a dynamic industry, organisations need new and existing staff to be enthusiastic about learning new skills and keeping up-to-date, so we find that our different customers are also important to each other.

Training

Broadbandcareers. Is now the exclusive City & Guilds Approved training centre in Ireland for the Level 2 award 2218 in Digital Television Aerial Installation and the City & Guilds 3667 award in Communications Cabling.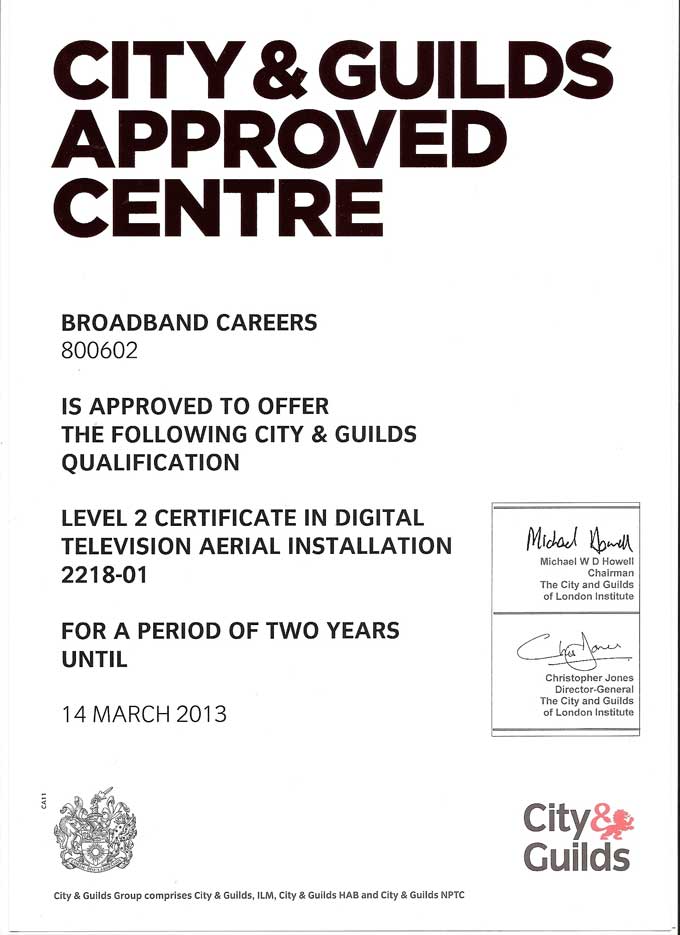 Courses include:
Air Blown Fibre Installation courses both Overhead and Underground
City & Guilds 3667 Communications Cabling in Internal and external environments
City & Guilds 2218 Hands-on practical skills courses designed for Satellite and Aerial installers.
QQI (formerly fetac) Level 6 Courses on Optic Fibre Cable Installation and Air Blown Fibre Installations.
Short introductory to communication technology courses.
One day Fibre splicing/jointing (for specific works)
Cable Connectorisation such as Corning Cabelcon
Soft skills for customer facing staff
Health and Safety (working at heights for aerial riggers)
Skillnet based courses on Intensive technology up-dates on specific new issues.
Support workshops for learning providers